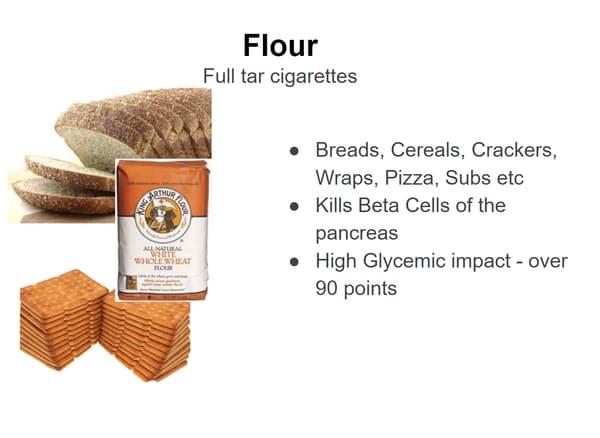 Yes, whole grains might be slightly better than bleached white grains (think low tar cigarette vs. regular cigarette) but they are not much better.
Furthermore, comparing yourself to the worst possible products in the food chain is not exactly a sign of confidence.
Bleached white grains are the worst. Example of white bread. 
Not only do they raise blood sugar the most (which is bad by itself).
It also does the following:
Blood glucose remains elevated longer
Insulin remains elevated longer
It ruins the beta cells in the pancreas (the place where insulin is created)
It increases cravings for other carbs and sugars
It inflames the digestive tract causing (GERD, IBB, Acid Reflux, and more)
Is the leading cause of diabetes - hence heart disease and now dementia
And more!
This is important to note with every occurrence of many common convenience foods we are prematurely aging and destroying our bodies.
The most common offenders are:
Pizza
Wraps
Cereal
Crackers
Bread
Pasta
Rice
Rolls and Buns
There are some other offenders called combination carbs as well (combination of carbs, fats, proteins) like milk, dairy products, and nuts (see below).
Some are very high in GI and some low.
But since they are not purely carbohydrates, I will leave them for another discussion.