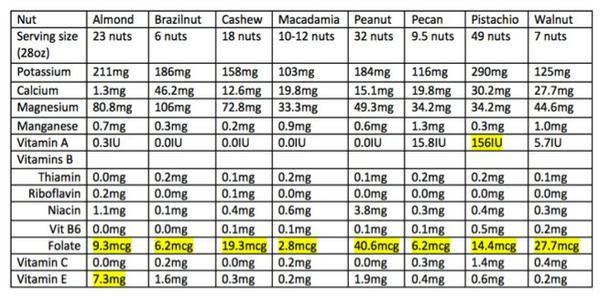 Loaded with Energy, Vitamins, and Minerals:
Nuts are very energy-dense (which means they contain a lot of calories.)
However, think of this first as a potentially good thing.
They are energy-rich because they contain a generous amount of fats.
Most of the fat ratio: Omega 3 to Omega 6 is well balanced.
Keep in mind Omega 3 fats are the Super Healthy Fats (good for your cells, skin, muscle, and heart).
Omega 6 fats are the less desirable fats (will lead to cellular inflammation).
Most nuts are also an excellent source of vitamins, minerals, and fiber.
Especially water-soluble B vitamins as well as calcium and potassium.
Calcium from vegetables and nuts absorbs into the human body readily whereas calcium from dairy does not absorb well and is almost negligible.